Penis Supplements – Do They Really Work?
According to some studies, between 40 and 70 percent of men deal with sexual dysfunction at some point. While many men turn to medications like the little blue pill, others look for supplements to save money and to avoid having an uncomfortable discussion with their doctor. Some men also believe supplements are a healthier option to improve sexual function.
However, supplements aren't regulated. Therefore, they may have questionable ingredient purity, and there isn't a lot of information about side effects and drug interactions. Let's take a look at which penis supplements work and which don't, so you don't waste your money on empty promises.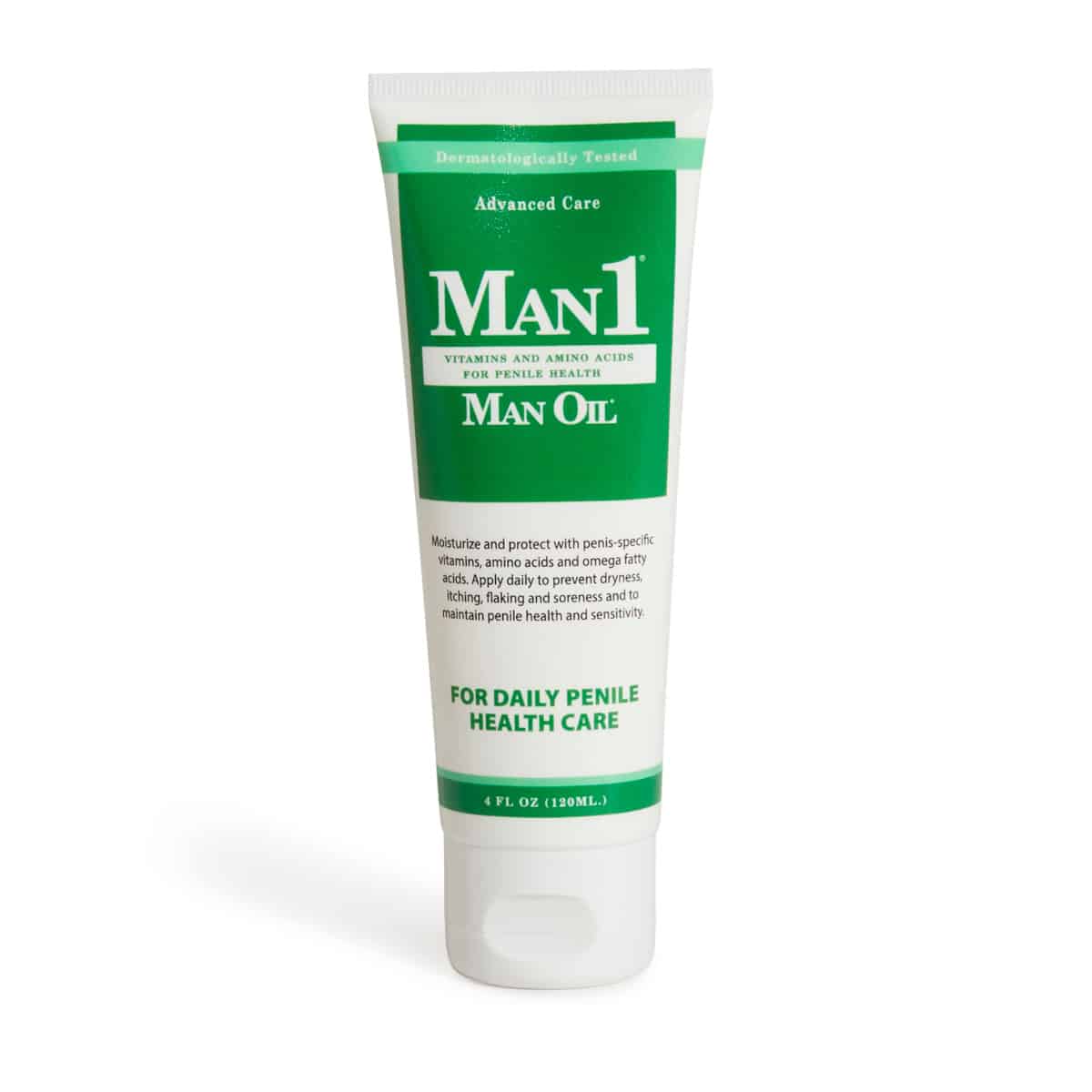 Man1® Man Oil®
The first line of defense against penile skin dryness, itching, redness and loss of sensitivity.
Penis Supplements: What Works, What Doesn't, and What You Need to Watch For
Let's look at some of the most popular penis supplements and see what they're about and whether they really can help men with penis problems.
Fenugreek: This supplement is extraordinarily popular and often appears in the top three best-selling supplements for penile health. It may support improvements in sexual arousal and orgasm, energy, muscle strength, and well-being. As of now, there has been no indication of adverse effects.
Ginkgo biloba: This supplement is widely taken for several conditions: however, there isn't any data that suggests that it's helpful for erectile dysfunction. It can actually lead to seizures, bleeding, and headaches if combined with certain medications.
L-arginine: Several studies have shown that this supplement has been shown to increase erectile function. It is considered generally safe, but some patients experienced a small drop in blood pressure that didn't significantly alter heart rate.
Yohimbine: Next to L-Arginine, this supplement also shows the potential to improve male function. The downside of Yohimbine are side effects like headache, sweating, hypertension, agitation, and insomnia
Maca: This supplement is a vegetable. Maca has been linked to increased sexual behavior in animals, but not in humans. It's relatively safe with rare reports of toxicity and increases in liver enzymes and blood pressure.
DHEA: This is a hormone made by the body that can also be manufactured using chemicals from wild yams and soybeans. No evidence shows that it alters hormones, specifically testosterone, in a significant way.
 Ginseng: This supplement for penile health is the top-seller of the group, but it is not certain whether it really works or not.  It does have many upsetting side effects such as headache, constipation, insomnia and upset stomach, and it can lower blood sugar.
Horny Goat Weed: The name of this supplement is very misleading. There is no obvious benefit for sexual function. It is generally safe, but there are a few reports of fast heart rate and hypomania.
Are Penis Supplements Safe?
It's hard to prove whether supplements really impact sexual issues like libido and erectile function. It's also hard to show they are safe. Many supplements are advertised as  "all-natural." However, they are not always as natural as they seem. Some of these products contain traces of phosphodiesterase-5-inhibitors (PDE5Is), which are also in prescription medications like Viagra.
 Men with heart disease or who take nitrates should not use PDE51s, because they may cause dangerous drops in blood pressure. Additionally, men with end-stage kidney disease or severe liver impairment should avoid them. Men with prostates issues who take medicines such as Flomax can take PDE51s, but only under a doctor's supervision.
 Another Option
Aside from oral supplements, another option for penis supplementation is a topical crème, specifically a penis health crème  (health professionals recommend Man 1 Man Oil, which has been clinically proven safe and mild for skin). This crème combines L-Arginine and L-Carnitine with essential vitamins like B5 and C to boost blood flow and penile health.